Stephen's experience working with Jennifer
The best thing about creating Discovering Savannah was meeting Jennifer Piech and having her tell me … "I'd love to play Savannah". Since then I've come to realize just how lucky I am that she will be playing her. Not only does she look exactly like what Savannah is supposed to look like even though I didn't have a picture in my head prior to meeting Jennifer, but as soon as I met her I realized .. oh my God she looks like Savannah. Then as time went on and we got to know each other personally I found out that Jennifer is not just this amazing actress but she's also this wonderful wife, mother, screenwriter, and producer. But what really stuck out to me the most was how she is this incredible role model for her children.
This isn't my first screenplay but it will be my first film and I was of the belief that the creativity was in the writing of the screenplay. Then after working with Jennifer for over a year now, I realized that the creative process never ends when it comes to making a film. It has been this amazing experience collaborating with her which has only helped to make the screenplay better and I've included just two examples below as to how Jennifer has helped me.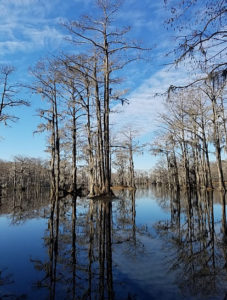 Example one:
This is a scene in the screenplay that I believe is the turning point that really shows how Savannah and James are connecting in a special way and is titled "The road less traveled". Originally it was mostly me talking about the road less traveled to Savannah and if I'm honest with myself it was more like me lecturing Savannah. The reason I know this is because on more than one occasion Jennifer has hammered home to me the point me that … "It sounds like you are lecturing me".
So below is the updated version of "The road less traveled" scene that is so much better now because of Jennifer's advice which if we are lucky enough to film shows the experience between Savannah and James as opposed to talking about it which I only came to write because of my conversations with Jennifer.
Here's a photo of Lake View SC where this scene takes place and you can see from the photo why it is called the road less traveled. Also, you can purchase this photo from our Photos For Sale link on this website. Altogether I have 7 photos I've taken over the years that you can purchase. You can buy them framed or unframed and it will be a tremendous help in getting our film made if you do.
The Road less traveled:
To really understand how this scene and how it will play out please purchase the song titled "Blame" that will be playing during the entirety of this scene.
Scene switches to them at night time getting gas at a 7-Eleven. We hear Joe Daniels' Blame (the mellower version) in its entirety as the action below takes place with just a little bit of dialogue.
We see James pumping gas at a 7-Eleven while Savannah is inside the store. Savannah is walking through the isles and loading her arms up with as much junk food, magazines, and soda that she can carry. She then plops all of it on the counter and the clerk has a strange look on her face. We then see Savannah as she is getting into the car. We see James open up the car door for her. Then once inside the car.
JAMES
I'm going to find a rest stop soon to get a nap before we finish the drive. Unless you would like to drive for an hour or two. All you have to do is stay on 95 South.
SAVANNAH
I can do that.
As they switch seats James holds the car door for Savannah again. Then we see Savannah driving and then pulling off into a rest area as James continues to sleep. The camera shows Savannah typing "Alternate routes to Savannah, GA" in her cell phone. She clicks on her phone and looks over and smiles at James. We then see a picturesque scene of them pulling up to Lake View, SC. The camera shows this beautiful view of Lake View as they pull into their parking spot. As they pull in James wakes up and then sits up and looks out to this beautiful view and says.
JAMES
Where are we?
SAVANNAH
The road less traveled.
We then see them walking along the lake and when James looks back at Savannah we see her using her phone.
JAMES
What are you looking up?
SAVANNAH
I'm seeing if we can rent a canoe.
The scene then switches over to them taking a canoe off the roof top of their car and then we see James push the canoe in the lake. Savannah is already in it on one end and James proceeds to jump in the canoe. Then we see different and beautiful camera shots of them exploring Lake View on their canoe as Joe's song "Blame" is still playing. Then right at the end of the song James rests the paddles inside the canoe as they continue to float.
JAMES (Smiling as he's looking at Savannah)
Savannah?
SAVANNAH
Yes James?
JAMES
Thank you.
SAVANNAH (As she's smiling)
You're welcome.
Example two:
I drove out to NYC to see Jennifer in the play "Good People" that she was the female lead in earlier this year and was just blown away by her performance. As I mention in the Kickstarter video I knew that night while watching her performance that I had to change how the ending of Discovering Savannah was filmed. The overall ending of what happens between Savannah and James (which I can't give away) is still the same, but as in example one, it's how we show what happens between them that has completely changed. This change only came to be because of how gifted an actress Jennifer is and makes for such a stronger emotional ending of the film. Using Jennifer's advice again for this scene about showing it and don't talk about it also adds to the powerful emotional ending. You can purchase the song "Aint No Time Baby" by Mercy Creek under our sound track that we will be playing in its entirety for the last 3 minutes and 20 seconds of the movie.